What to Do About Floor Sloping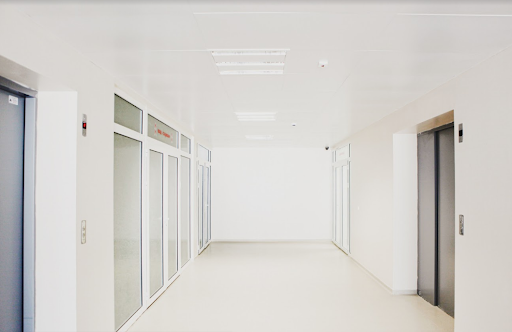 Certain industries just have a higher risk of floor damage than others. Pharmaceutical plants, for example, may suffer floor damage caused by improper draining. Improper draining can lead to a build-up of mold, mildew, and other types of bacteria if left untreated. This can spell disaster for food and beverage production facilities, kitchens, and other pharmaceutical laboratories. 
Fortunately, if you're suffering from improper draining, you can find resolution with professional floor sloping. Below, we take a look at what floor sloping is and what you can expect from the process. 
Why Would a Floor Need to be Professionally Sloped?
As mentioned above, sloped floors are primarily used in industries that require the drainage of chemicals and other liquids. Drains may need to be installed due to moving into a new facility that has flat floors. In other instances, if you're suffering from improper draining, you may need to have a higher elevation. If this is the case, a professional team can help. 
For facilities like those in the food and beverage industry and pharmaceutical industry, sloped floors are necessary. They prevent liquids from pooling up in the floor, which can damage your concrete. This is because floors without proper sloping cause the liquid to flow and pool in the opposite direction. 
What Does the Floor Sloping Process Include?
If you need sloped floors or need to repair one, the first step in the process is for an experienced team to meet with the business owner. This determines what's needed and the next course of action. This often includes the plan for floor drainage and conversations about floor layout and spacing. 
After this discussion, the next step is to prepare the surface. As with all floors, there are certain steps that must be completed before the repair or installation can take place. However, when it comes to sloped floors, it will depend on whether the concrete floor has an existing underlay. In the case of floor sloping with an existing underlayment, a cleanout elevation needs to be installed. It needs to be approximately ⅜" higher than this underlayment. 
Of course, the height of this elevation will depend on how much slope you need. Regardless of the amount of slope you need, the crew will excavate two-foot-wide sections. This is to securely add the pipes and drain. All rails that are installed must allow for two percent grade (or an angle measurement from the wall to the drain) to allow the drains to function correctly. 
Next, the crew will look over the installation. They'll double-check the cleanout height and drain to ensure everything is working as it should. 
If a floor does not have an underlayment, the first step in the process will be to install one. A self-leveling underlayment is a cementitious product that essentially makes it easier to work on. It creates a smooth surface for heavily-trafficked floors. The underlay will be poured, and then the rest of the process mentioned above will follow. 
Next, the crew will look over the installation to double-check the cleanout height and drain. This ensures everything is working as it should. 
How Long Do Sloped Floors Take to Install?
As with anything, it can depend on the size of your room and if multiple areas within your facility need proper drainage. However, in most cases, the turnaround time to install sloped floors is three days.
Where Do the Drains Connect? 
These drains should connect to your existing drainage pipe or sewage system to ensure the materials are draining properly.
Do You Need Professional Floor Sloping? 
Floor sloping is necessary for so many industries that require proper drainage. Proper drainage will prevent mold and mildew growth. It will also protect your concrete floor since the material is naturally porous. 
Perhaps the biggest reason for sloped floors is that it helps meet health and sanitary requirements for many businesses, such as food and beverage facilities and pharmaceutical plants, as these facilities must reduce the amount of bacteria present.